River Tour Schedule & Ticketing
As you venture out with Good Natured River Tours, you will enjoy some of Florida Space Coasts' unique landscape and wildlife.
Your adventure takes you through part of Brevard county estuary on the Indian River Lagoon and the Banana River. North America's Estuary on the Indian River Lagoon and Banana River. You will see playful Bottle-nose Dolphins,  Manatees, wild birds and occasionally alligators. With over 4,300 unique and localized plant species. The adventure is narrated by your U.S.C.G. Licensed Captain who will tell you the history of the Indian River lagoon and take you to the iconic landmark Dragon Point. Then relax as we cruise into the Banana River and see the Mathers Turn bridge and some of the beautiful exclusive real estate. kick back on our luxury 45 ft. boat with indoor & outdoor seating, clean bathroom and manual wheelchair handicapped friendly. While listening to Caribbean music throughout the tour in the Indian River Lagoon.
River Tour Daily Schedule
We offer approx. 2-hour trips, 6 days per week, year-round, as well Sunset Cruise Saturday night (seasonal)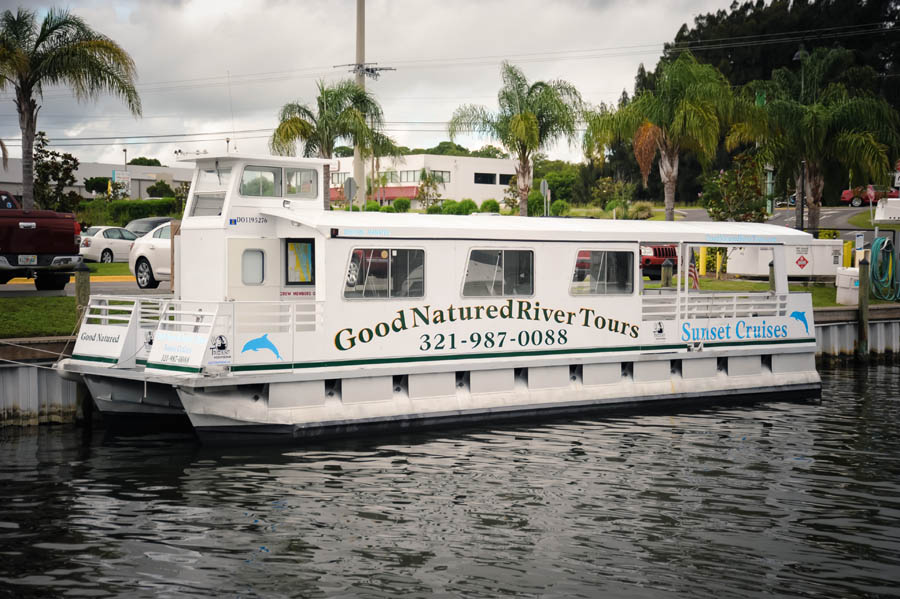 Daily Sightseeing Cruises
Tuesday through Sunday :
Depart at 9:00 am – Return at 11:00 am
Depart at 12:00 pm – Return at 2:00 pm
Friday Late Afternoon
Depart at 2:30 pm – Return at 4:30 pm
Saturday Late Afternoon
Depart at 2:30 pm – Return at 4:30 pm
*Seasonal (November – March)
Sunset Cruises
Seasonal (April – October)
Departure times vary due to season
Saturday nights only (minimum passengers needed)
The trip is approx 1.45 hours in length. Sunsets tour are subject to change due to weather or number of riders. Reservations required.
Reservations are required, please purchase your tickets below or call 321-987-0088
This tour is a non-narrated tour, kick back enjoy the Sunset and bring your own adult beverages! (Beer and Wine only, no glass allowed)
If you are looking for a full wildlife adventure, day trips typically experience more wildlife.
River Tour Rates and Online Booking
Holiday tours
Rocket Launches
July 4th
Private Parties
Weddings
Birthdays and Anniversary
School field trips
Plan your business meeting in our enclosed cabin.
Book a group of 15+ at $5.00 off per person. Interested in private charters? Contact Us
Only one discount per person.
All tickets are subject to 7% Florida State Sales Tax.
All tickets are non-refundable. However, It can be moved prior to 72 hours of your selected tour. In case of weather cancellations, we will allow you to reschedule your tour at a later date but no refund will be offered.
lt's not our policy to give refunds. When the Coast Guard advises us to cancel a trip due to weather, we attempt to notify you as soon as we know, so please make sure we have a local or cell number where we can contact you. ln this case we will reschedule all ticketed passengers and get you out on the next available tour. Please call 321–987-0088 to reschedule.
We accept Visa, MasterCard, and American Express.
No Smoking.
No Glass Bottles or Liquor.
Prices subject to change.